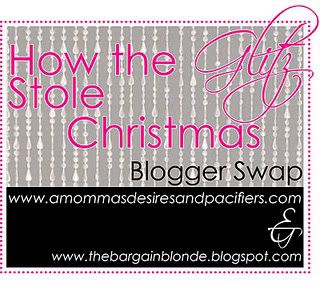 Finally getting this post together! What a week it's been. I participated in the blog swap created by
Raven
and
Lindsey
. I was paired up with Susanna from
Freckles & Lace
.
This was my first blog swap and I was super excited to buy things and send them and see what I got in return.
We exchanged a few emails and got to know a little about each other and of course I checked out her blog about her and her adorable family.
My package arrived when I was on vacation and I was so excited to get it I stopped on my way to work really early in the morning and got it. I could barely wait to get to the office and open it up.
She sent the cutest little card! And some super adorable stuff. A little zebra print wrislet purse perfect for a night out with the girls! A zebra print purse size planner and awesome turquoise pens to write in all my fun events. Some adorable turquoise bracelets that will be perfect with some of my other jewelry, nail files, a pedicure set, and some awesome nail polish...that some how missed getting in the picture. Oh...and the best little stocking ever that is now sitting in my office waiting to be filled with goodies!!
I have to say that she nailed it and got the BEST stuff ever! I had such a good time doing this swap. Thank you Susanna for all the amazing stuff. I hope to keep in touch with you and take care of those sweet babies of yours!